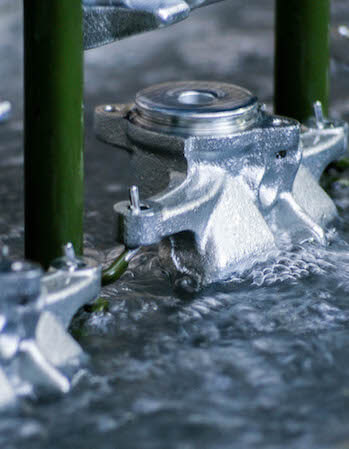 Electrolytic
Painting
Electrolytic
Painting
Electrolytic coatings give a durable protection to metal surfaces through a zinc coating process, which includes several state-of-the-art coatings. Electropoli, an expert in metal surface coatings, offers techniques to efficiently galvanise steel.
What
is
galvanising?
Galvanising metal is done by the electrolytic coatings offered by Electropoli. Also known as electroplating, these processes are intended to protect surfaces and materials against corrosion, among other benefits. Galvanised steel is used in many industries such as aeronautics, defense, automotive, trucks, industrial, or energy. Electropoli offers electrolytic zinc coating, electrolytic bronze coating, electrolytic chrome coating, chemical coatings, or conversions. Your surfaces are carefully prepared in advance to allow an optimal hold of the coating.
Electrolytic
processes
Electropoli can fulfil any electrolytic coating project through its high-performance service centers and state-of-the-art equipment for metal surface treatments. In electrolytic coating, the parts are first immersed in a bath containing metallic salts from the deposited metal as well as salts toallow a continuous currant in the solution. These economical processes offer high corrosion resistance with your choice of many different finishes. With our patented Zeltec® and Dark Zeltec® technologies, our technicians can add electrodeposition coatings on alloyed zinc and zinc coatings: Zn, ZnNi, ZnFe Alkaline (all with chrome 3-based finishes that meet current environmental standards). These coatings are applied after the electrolytic zinc coating and significantly improve the robustness and resistance to corrosion. The mechanical strength, depending on the alloy used, is also more efficient.
Our service centers in Isigny le Buat, Bielsko Biala, Cesky Dub and Tremosnice offer a verity of coatings including zinc (acid and alkaline), zinc nickel (acid and alkaline) and alkaline zinc iron.
Electrolytic
bronze
coating
This process fulfils the most extreme requirements. It is mainly used on junction parts of tubular systems and can withstand temperatures ranging from -60° C to +60° C, making it applicable in both marine and desert environments. This coating facilitates screwing and unscrewing and significantly improves corrosion resistance. The lack of polluting greases also makes it environmentally friendly. Our Isigny Le Buat service center can fulfil any project requiring electrolytic bronze coating.
Chrome
anticorrosion
treatment
with
electrolytic
decorative
finish
The electrolytic chrome process allows customised coatings for your parts, for example adding a copper or nickel underlayment before the decorative chrome coating. It is both an aesthetic and mechanical enhancement, and also prevents corrosion. In addition to electrolytic chrome coatings, the Saint Dizier service center (France) offers additional services such as oiling, tribofinishing and degassing.

Use Electropoli's expertise for state-of-the-art electrolytic coatings and substrate coatings. For all electrolytic coatings, our experts also monitor the performance after the electrodeposition.